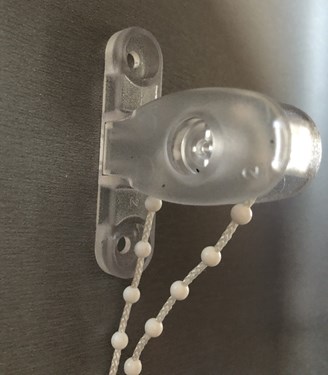 Cord Tidy - Face Fix
Does your existing blind have loose free hanging continuous cord/chain controls.
Why not fit our cord tidy. Designed to be screwed to the wall for stability and to create a secure, child safe product.
Small compact design
Easy and simple to install and operate.
Sold in packs of 3
Cord Tidy Face Fix - 3 Pack
Order Code
2303
Make your existing blind Safer
If you have an existing window blind which has an operating cord or chain that could form a loop it is important to keep it out of reach of babies and young children.
Young children can be strangled by loops in pulls cords or chains that operate a blind.
Our tension device is ideal to keep operating cords and chains that could form a loop, out of the way. These should be securely fixed to an adjacent surface and at the maximum distance from the top of the blind so the cord or chain is permanently held taut by the device.
Small compact design
Easy and simple to install and operate
Sold in packs of 3