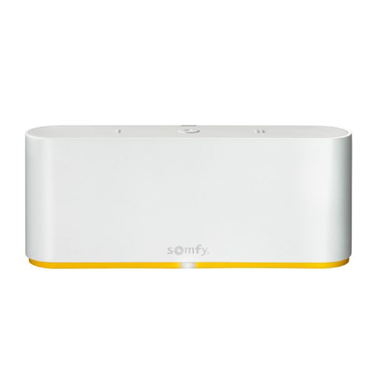 Place your mouse over this image
Image gallery
Info
Installation Instructions (1)
Delivery
Specification
io-homecontrol, RTS and Zigbee 3.0
Dimensions: 162 x 67.5 x 34 mm
Weight: 213g
Fadio frequency: 868-870 MHz and 433.42 MHz
Connections: 1 x Micro-USB
Current: 230V / 5V DC 1A
Enclosure Class: IP30
Range: 200 meters open field
Working Temperature: 0 degrees to +50
Extra: Hover Button on the front of the box button to run a script
Colour: White
Location: Indoor
Radio Range indoors: 20m
Other: LED (red/green/orange/white)
Miscellaneous: Two physical control buttons at the top of scenes
Number of connectable equipment:
Maximum number of devices per system: 200 (all technologies)
Io-homecontrol: 200 pcs
RTS: 50 pcs
Zigbee: 50 pcs
Sensor/alarm sensors Somfy: 50 pcs
Cameras: 5 pcs
Scenarios player (Somfy): 20 pcs
Maximum number of scenes: 40
Philips Hue: 1 Bridge (gateway) 50 Hue products
Package Contents
1 pc Somfy TaHoma box
1 pc Power Cable, Micro-USB
1 Getting started manual
Somfy TaHoma Switch - Home Automation System
Order Code
8119
From a touch of button, to an app control, all the way to voice control. TaHoma switch offers an accessible to all and scalable smart home solution
TaHoma switch controls key home equipment of Somfy and major partner brands (shades, shutters, doors, gates, windows, heating, lightling, cameras, alarm systems and more) for more security, greater energy efficiency and enhanced confort every day.
With today more than 280 equipment ranges and 21 major home equipment brands, it offers one of the most complete smart home experiences.
Thanks to the native integration of the io-homecontrol, RTS and Zigbee 3.0 protocols along with the cloud compatibilities TaHoma switch is an ecolutive solution, that allows people to add equipment as they like.
Compatible with: