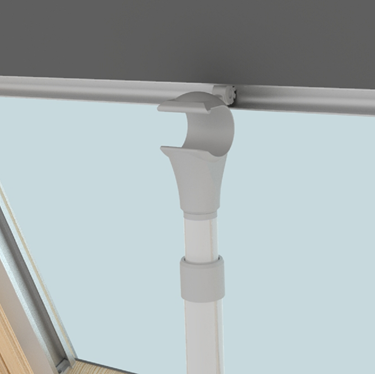 Place your mouse over this image
Image gallery
Info
Installation Instructions (1)
Delivery
ROD CONTROLS ARE SOLD AS A COMPLETE UNIT - HEADS ARE NOT AVAILABLE ON THEIR OWN
Our Vale Rod Control has a specially designed C shape and ball end fitment.
The C shape is usually used to open the bar at the top of your window or handle at the bottom of your window.
The ball end is usually used to open and close the window blinds.
Please note the pole needs to be in the LOCKED POSITION before it is used!!
The pole is made up of 2/3 metal tubes that slide within one another.
To extend the pole you should slide apart, when the desired position is established with the smaller (inner pole) in your left hand and the larger (outer pole) in your right hand twist your right hand clockwise to lock the pole.
To reduce the length of the pole, reverse this procedure.
VALE Skylight Window Rod Control (C)
Order Code
7745
To operate your VALE Skylight Blind don't stand on a chair to open and close your Skylight roof window or to operate the blind. Do it the easy way with this handy rod from our VALE Range.
This VALE product is a telescopic rod with a reach of up to either 2 or 3 meters. It is for use with most Skylight roof windows where a top bar is used to open the window.
2m rod control is 1m long and extends to 2m
3m rod control is 1.2m long and extends to 3m
Rods can also be used for the control of the VALE range of Blinds. For Genuine Blinds please look at the appropriate Genuine rod control.
Please note actual rod control colour may vary from image shown.
If your window has a turn handle then we would recommend the Velux ZCZ112 rod control to open the window.
NOTE: They are NOT compatible with venetian or external blinds and ease of operation will differ depending on how high and how deep set your roof window is.