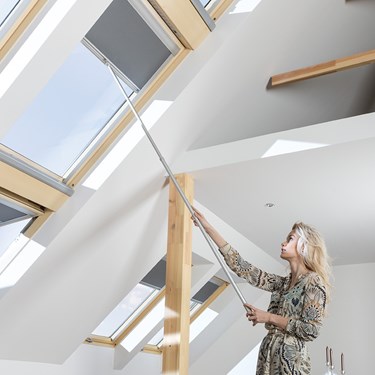 Place your mouse over this image
The ZSP Extension Rod must be used with a universal ZST telescopic control rod.
Standard rod length is 119 cm, which can be extended to 134, 162, 190 and 280 cm. By using this ZSP extension, it is possible to to extend the rod further to 246, 274, 302 and 330cm.
ZSP Extension for ZST Control Rod
Order Code
175
For operating Fakro windows installed in awkward locations, Fakro can provide practical and useful control rods. These make the opening and closing of inaccessible Fakro windows easy. and can be used to operate internal Fakro roller and Fakro Venetian blinds, as well as Fakro external awning blinds.
VALE offer our own competitive range of accessories dedicated to fit all models of windows. Prices for a 2 meter opening pole start from only £20.18