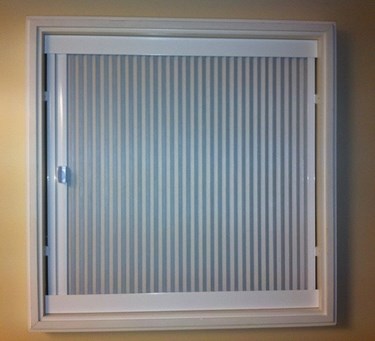 Place your mouse over this image

36%OFF
Info
Installation Instructions (2)
Delivery
Specification:
White Honeycomb Blackout Fabric
White Fittings and Side Rails 
Available with or without a self assembly wooden frame
Full installation Instructions
Vale Blackout Sun Tunnel Blind, by Vale
Hive Blackout - White
Order Code
7760
This product is exclusive to VALE Blinds
If you have a Sun Tunnel, and you are struggling to find a blind, this could be the answer for you.
We can make a Honeycomb Pleated Blackout blind with aluminium side rails to fit into a perfectly square recess. 
If you purchase your blind without a wooden frame we recommend making the frame out of 50mm x 25mm timber, or similar, but the frame must have a minimum depth of 50mm, and must be perfectly square and parallel. Alternatively you can purchase the blind with a self assembly wooden frame that you can be paint or stain as required.
Delivery of this product is usually 2-3 weeks
Available with or without a wooden frame
Price in GBP
£205.89
£119.40