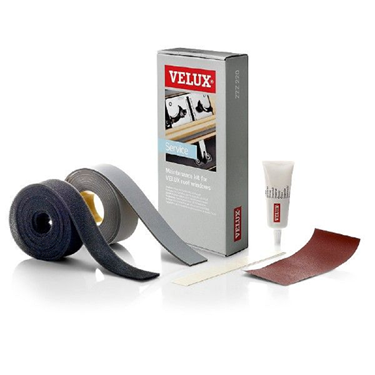 Place your mouse over this image
Maintenance kit for VELUX® roof windows produced before 2014
Consists of:
Grease for hinges and locks
Air Filter (3m)
Foam for the ventilation flaps for 2-5 windows - 3m
NOTE : This kit is not suitable for newer windows where the window code contains a K
VELUX® DIY Maintenance Kit for Pre K Code Windows (ZZZ-220)
Order Code
235
Maintenance kit for VELUX® roof windows produced before 2014
If you want to prolong the longevity of your VELUX® roof window or simply give it a touch up, this is the product to purchase.
This service set is for both wooden and PVC VELUX® roof windows and is a great do-it-yourself product that can help you prolong the longenity of your window.
Velux recommend that you lubricate your fittings and hinges at least once a year.
NOTE: This kit is NOT suitable for the VELUX® windows with a K code