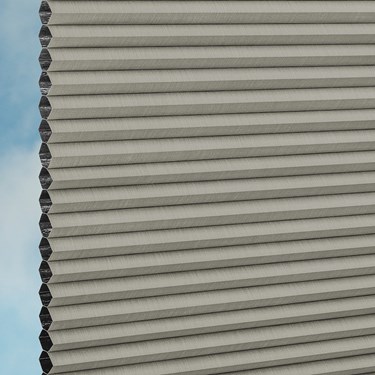 Place your mouse over this image
Info
Installation Instructions (10)
Videos
Delivery
Standard Specification
Duette® Foil lined Room Darkening Honeycomb Fabric
Standard Cord & Cord Lock Pull Cord Controls
White Head Rail and Bottom Bar
Universal Face/Top Fix Brackets
Standard Model AO10 - Free Hanging Stack at the Top
Alternative Specifications
LiteRise® Control
SmartCord® Control
Mono Continuous Metal Chain Control
Alternate Model of Blinds
TruFit® Model
Motorisation Available
Duette® Elan RD Elephant 4532
32mm Room Darkening
Order Code
10029
Duette® Shades feature a unique honeycomb construction that makes these shades soft, durable and highly energy efficient.
The shades built-in insulating characteristics help keep the heat out in the summer and the warmth in during the winter.
Manufactured with a choice of hardware colour, model and control options including motorisation. Although these are manufactured from Room Darkening fabric, these blinds do not come with side rails which means light will come around the edges but not through the fabric.